As of 2022, the video gaming industry is worth over $130 billion. This industry is projected to exceed $300 billion by 2025. With the advent of the coronavirus pandemic, which forced many people to stay at home, millions started gaming online to pass time.
There has never been a better time to start a gaming company than in the current situation. One of the first things you need to think about when starting this kind of company is how you will name it. Our game company name generator will help you with that.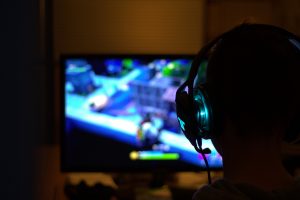 Your Gaming Company Is As Good As Its Brand Name
Your brand name is the single most important asset. When most potential customers think about your brand, the first thing that will come to mind is the brand name.
You should invest time and effort towards finding a good name. With the best video game company name generator, the process will be easier: you will obtain hundreds of suggestions with the click of a button.
Find an Exciting Name
Most people will not do business with your video game brand if it has a dull name. Gaming fanatics will choose your brand over others if it has an exciting name. This is a name that will energize people and make them want to play your games.
Keep It Lively & Entertaining
From the word go, make your name as lively as possible. People play games because they want to be entertained and that should be apparent from your company name.
Remember the Young
Most people who play games are young people; therefore, you need a name that will be receptive to young people; especially those who are under 30 years.
Let's Check Out Some Exciting Gaming Company Brand Names
Your journey should start with a game company name generator. After plugging keywords associated with gaming, I was able to come up with the following ideas:
Elite Gaming
GamingOCity
Energy Gamer
Atlas Gaming
Accelerate Gaming
Digital Gaming
Pivot Gaming
Gamingable
Mega Gaming
Crave Gaming
Chroma Gaming
Gamingsy
Vengeance Gaming
Some Examples to Inspire You
We have found out some of the ideas generated by a game dev tycoon company name generator. It is now time to explore some of the most popular gaming brand names out there.
Epic Games
When you think about this name, the first thing that you are likely to imagine is a gaming experience like no other. This name is very successful in convincing people that they should expect the best gaming experience ever. The name is also easy to remember.
Jam City
This name isn't dull but it is exciting. It is the kind of name that can easily make a young person visit the platform in question. It combines two powerful phrases to create an unforgeable brand name. That is exactly what you should do when creating your brand name.
Supernatural
If you can use one word, why use more? This name keeps it simple while invoking an out-of-this-world gaming experience. Of course, most gamers want something that is out of the ordinary.
The Bottom-Line
A top brand name will naturally market your product. You can have the best games in the world but if you don't find a good brand name your efforts will not yield much.